BTB Team // 22/04/2021
London's Best Outdoor Bottomless Brunches
Nothing is better than enjoying an outdoor bottomless brunch in London. Free-flowing prosecco, cocktails, excellent food, wearing shades when there is a bit of sunshine… surrounded by friends on a terrace or a rooftop…. such a beauty!
We are so excited to finally be able to go out and enjoy a boozy bottomless brunch again! With the easing of restrictions allowing venues to open up outdoors in April and May, we have compiled a list with the 30 best outdoor bottomless brunches in London: we know you'll absolutely love them!
Written and brought to you by the formidable WeBottomlessBrunch girls.
IMPORTANT NOTE: there are not many venues with outdoor space that offer bottomless brunch, so almost everything is already sold out! So hurry up! Here is some specific availability:
Friday 21/5: Chakra Kingston, Bar Elba Supper Sesh
Saturday 22/5: Chakra Kingston, Chakra Kensington, Camino Kings Cross, Oystercatcher, The Running Horse
Sunday 23/5: Chakra Kingston, Chakra Kensington, Camino Shoreditch, Camino Kings Cross, Big Chill, Bar Elba Rooftop Brunch, The Running Horse
Camino Shoreditch
Shoreditch is the newest member of the Camino family. Inspired by the Castile y León region of Northern Spain, the restaurant and bar is vibrant yet relaxed, with a beautiful heated terrace for outdoor drinking and dining all year round.
They have a brand new brunch menu full of brunch classics with a Camino twist. Dishes include a super moreish Huevos Rotos con Chorizo, Paella, our Big Iberico Burger plus much more.
90 minutes of unlimited Cava (Spanish prosecco) or Sangria – £35
Only availability for Sunday 23rd May, 30th May:
---
Bar Elba
Bar Elba is one of our all-time favourite Bottomless Brunch venues! Situated minutes from Waterloo station, with stunning views across the London skyline, this is a lively and fun venue to enjoy with your friends.
Premium- £55
Standard- £45
Only availability for Friday 23rd, 30th, 31st
---
London Boat Party
If you want a party atmosphere where you can eat, drink and celebrate the easing of restrictions with your friends, the London Boat Party is the perfect spot. You can enjoy a licensed bar and buffet whilst cruising past the beautiful sights of London with a DJ playing party anthems and chart-toppers.
Price: £42
Only availability for Sunday 16/5:
---
Souled Out
With an outside terrace and a delicious menu, Souled Out offers a fabulous bottomless brunch in Camden. With 90 minutes of bottomless beer or prosecco and the choice of any brunch dish, this is a great option for friends or couples. Priced at under £30 we think this is a brilliant deal!
Price: £25
Fully booked until May 17th… for availability afterwards:
---
Bar Gansa
A two minute walk away from Camden Town station, Bar Gansa offers delicious Spanish cuisine. The lively venue hosts a bottomless brunch on weekends which includes three tapas and 90 minutes of bottomless beer or sangria.
Price: £25
Fully booked until May 17th… for availability afterwards:
---
East Putney Tavern
Situated on the upper Richmond Road, East Putney Tavern offers a lovely outside area for you to enjoy their delicious bottomless brunch which includes unlimited bellinis or bubbles.
2 courses: £35
3 courses: £39
---
Cottons – Vauxhall
Cottons is a lively Caribbean restaurant with an outdoor space with beautiful views. You can enjoy two hours of bottomless rum punch or prosecco whilst having a great time catching up and partying with your friends to a reggae soundtrack.
Price £27.50
---
Oystercatcher – Greenwich

Modern bar and restaurant located in Greenwich's New Capital Quay with beautiful views of the river. The Oystercatcher hosts a bottomless brunch including free bellinis or bubbles.
2 courses: £35
3 courses: £39
---
The Aeronaut
This West London bar has made a name for themselves with their bottomless brunch menu. With a large outdoor area, The aeronaut hosts a variety of brunches including The naughty 00's Brunch, It's Britney, Brunch, The greatest Brunch and more!
Price: £35-50
Fully booked until May 17th… for availability afterwards:
---
The Running Horse – Aldgate
Situated in Aldgate, The Running Horse offers a lovely atmosphere and delicious food. Making it the perfect place to go for a bottomless brunch in East London.
2 courses: £35
3 courses: £39
Only availability for 22nd, 23rd, 29th, 30th:
---
The Green Goose – Bow
The Green Goose is a lovely spot for bottomless brunch. A traditional cosy British pub situated in East London, it has a large outdoor area perfect for catching up with friends once restrictions ease.
2 courses: £35
3 courses: £39
Fully booked until May 17th… for availability afterwards:
---
Chakra- Kensington and Kingston
Located Kensington and Kingston, Chakra is an Indian restaurant with a lovely outside area. Chakra offers various vegan and vegetarian options making it a great choice for a group of friends.
Weekends availability 22nd, 23rd, 29th, 30th May. Midweek (Tues-Fri) full availability:
Available every day of the week from 10th May onwards:
---
Arenella @ The Chapel Bar
With a heated roof terrace and delicious Mediterranean food this is a fantastic North London spot. The bottomless lunch menu includes a big variety of drinks with unlimited Prosecco, Aperol spritz, Vino Bianco Spritz or Elderflower spritz for two hours! The beautiful setting is perfect for couples.
Price: £35
Fully booked until May 17th… for availability afterwards:
---
Aquum
Based in Clapham, Aquum has a beautiful roof garden where you can enjoy a greek inspired bottomless brunch menu that includes build-your-own-bellinis. This is a fantastic deal for any South West Londoner!
Price: £19
Fully booked until May 17th… for availability afterwards:
---
Rapsa 100 and Rapsa Archway
Rapsa 100 and Archway are Filipino Restaurants based in Hoxton and Archway with a fabulous Boozy bottomless brunch. With 100 minutes of bottomless Aperol Spritz, prosecco or slushies and your choice of any of their delicious brunch dishes these are a brilliant choice for a North London Brunch.
Price: £32
Fully booked until May 17th… for availability afterwards:
---
Maison Bab
Maison bab serves Middle Eastern cuisine, located two minutes from Covent Garden Station. You can enjoy two hours of bottomless Prosecco, house wine, twinkles and choose from one of their delicious dishes.
£19 plus food
---
Camino Kings Cross
Set in a beautiful hidden Courtyard in the heart of Kings Cross, Camino transports you to a bustling Plaza in Spain. Delicious Spanish dishes and bottomless Sangria and Cava will make you think you are really there!
Price: £35
---
Luna Springs
We're all about summer vibes at Luna Springs, Birminghams newest outdoor bottomless brunch bought to you by the Adventure Bars team. Enjoy 1 or 2 hours of bottomless drinks and choose your food from one of their amazing food trucks. Goodbye winter, so long!!
Price: £29
No availability
---
Bar Elba Rooftop Brunch
Bar Elba rooftop is the only place we want to be this summer and this year they're taking you to a tropical party paradise. At what is there plenty of in paradise? Brunch!!
Price: £60-65
---
Ma Boyles
Book your spot at Ma Boyle's bottomless brunch and tuck into a choice of brunch dishes, washed down with unlimited drinks for 90 minutes. Think traditional breakfasts, pancakes, or breakfast burgers, with free flowing drinks of your choice, including prosecco. The perfect boozy brunch in Liverpool.
Price: £30
---
Jolie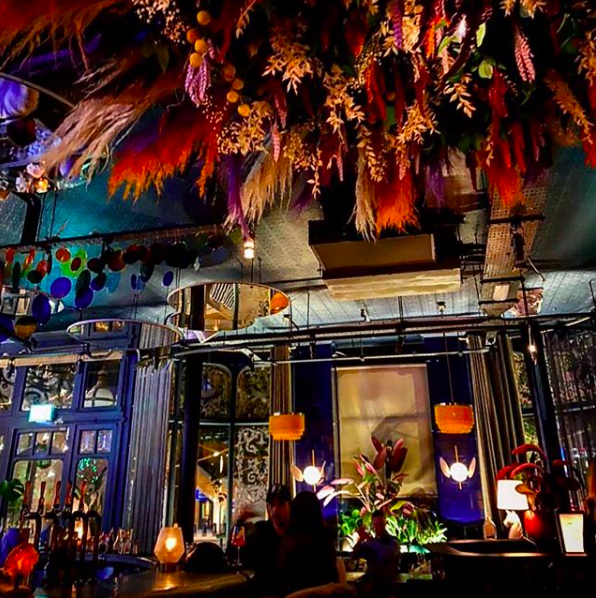 Chelsea has a new bottomless brunch and it's Fantastique! Set on the third floor of Chelsea Funhouse, Jolie brings all the class and sophistication of a French Salon whilst offering brunch classics with a French twist. Don't miss this truly one-of-a-kind experience.
Prices range from: £25
Full availability Mon – Friday.
---
Hideaway
This beautiful restaurant sits right on the banks of the River Thames. Enjoy one of their delicious brunch classics, produced with fresh, seasonal and locally sourced ingredients whilst drinking Prosecco and watching the boats go by.
Price: £30
No availability until after 17th May
---
Lost Society Battersea
With its industrial-glam vibes, mouth-watering menu, and impressive cocktail menu, Lost Society is a great spot for a bottomless brunch, whatever the occasion. Enjoy 2 hours of bottomless prosecco and mimosas, and add your favourite dishes from the menu if you fancy a bite to eat.
Price: £25
Looking for more places to get your brunch on? Try our list of all London Bottomless Brunches