BTB Team // 28/05/2021
Start the party early with the best bottomless party brunches
There is a time and a place for a relaxed brunch, bottomless or not, with friends; chilling out whilst you savour your eggs Benedict, pancakes with maple syrup, and extra bacon or smashed avocado. But sometimes you want, nay, need a fun, bottomless, party to kick off your weekend in style.
This could be for when you get the girls and/or guys together for that long-overdue catch-up, a birthday party or hens do. There are plenty of options to choose from in London.
But remember, if you don't find something on this list that is perfect for your celebration, then make sure you check out our other options.
Let's get started!
Tonight Josephine, Waterloo
What: Showgirl & burlesque bottomless brunch with bingo
Why: This is the brunch you have been waiting for! The glammed-up star of Instagram – you've probably seen a few photos of their interior on Instagram – is adding bottomless prosecco, bingo games, and a sexy burlesque show. Why? Cause you deserve it!
Well-behaved women don't make history.

Josephine De Beauharnais
When: Every Saturday
How much: £39 for 1 hour or £50 for 2 hours for bottomless bubbles, cocktail on arrival, a brunch classic and entertainment.
---
Jako London
Why: A new luxury intimate venue in the heart of Kensington.
What: Fresh Mediterranean Dishes, cocktails paired with Jako Bites. Expect an evening of quality entertainment and excellent service. A special guest DJ will be joining us for each event playing the best in-house/RnB/Hip-Hop/UK/Commercial. Performers will be at the venue ranging from in-house dancers to our magnificent fire-breathers and more!
When: The Last Saturday of every month
How much: £60
---
Ruby Blue
What: Club with a balcony overlooking the famous Leicester Square.
Why: Serving one of the best bottomless brunches in the heart of the West End. Ruby Blue is a sophisticated cocktail bar during the day to a vibrant party venue at night. Enjoy 90 minutes of free-flowing booze and an irresistible brunch menu. Whether you're celebrating a birthday or a hen party or catching up with your favourite people – Ruby Blue has the best DJs in London to guarantee you will have a great time. 
When: Every Saturday
How much: £30 for standard tickets and £35 for VIP balcony tickets. 
---
Bar Elba, Waterloo
What: Rooftop bottomless brunch with DJs, which can go as late as 7 pm.
Why: No need for wellies here – Bar Elba's making up for those lost festivals in 2020 with a rooftop party in the heart of Waterloo. They'll be serving a BBQ brunch (veggie option available), prosecco and beer, selfie booths, giveaways for everyone and the tunes will be pumped out by some of London's top DJs.
When: Every Sunday
How much: £39 for one hour and £50 for two hours
---
Old School R&B Brunch, Secret Location!
What: Old school R&B-themed bottomless brunch with two-course Southern-style brunch, DJs, and entertainment.
Why: What's not to love about some old-school R&B? So turn the lights down low, add some strobes and mix the 90's with the early 2000s, we're going back to the future. Through in a delicious Southern-style brunch and 60 mins of bottomless rum punch, and you're on your way to a wicked party!
When: Monthly, check for the next dates
How much: £40 for meat or veggie brunch menu, 60 mins of bottomless rum punch, and the best singalong R&B tunes ever!
---
Big Chill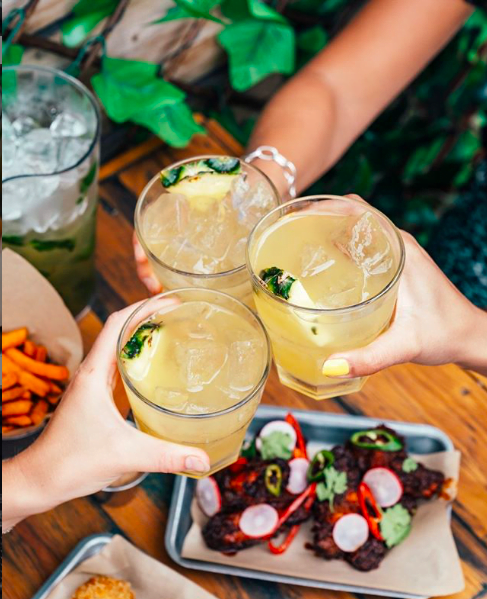 What: An urban bar, eatery and music venue.
Why: A laid back bar club offering a DJ is on-site every weekend to bring good music. 
They have an in-house foodie resident Chuck Burger is well known for seriously good burgers, delicious sides and a range of vegan options are available.
When: Every Sunday
How much: £25 for 90 minutes bottomless (Food must be bought separately)
---
Lucky Voice
What: Private karaoke rooms and Cocktail bar.
Why: Dress up, let loose and sing your heart out in your own private booth at this popular bottomless karaoke brunch. Two hours of bottomless bagels, brunch cocktails and bubbles as well as an array of fun party shenanigans. Perfect for any occasion. 
When: Every Saturday
How much: £50
---
One Stop Night Out at Gem Restaurant
Why: Gem Restaurant is catering to all of your needs with One Stope Night out. Enjoy bottomless drinks including Prosecco, and cocktails whilst feasting on a selection of 7 cold Mezze and 7 hot meat and fish mezze dishes which are all locally sourced. Every Saturday night they have their own DJ and their own dance floor to play your favourite floor fliers. 
When: Every Friday and Saturday Night
How much: £44.95
---
The Cauldron
What: A magical, fantasy-inspired pub using science and technology.
Why: Bottomless gin cocktails dispensed from a unicorn using your magic wand—what more could a wizard or witch ask for? Grab your friends and head to this unique bar to enjoy 1 hour of bottomless unicorn gin cocktails with some of London's most magical gin drinks you'll ever drink. 
When: Every Wednesday to Sunday 
How much: £25 for drinks only.
---
Barrio Brixton's The Notorious B.I.N.G.O & Bottomless Brunch

What: A bright South American restaurant in London, playing 90s hip-hop and serving juicy burgers.
Why: Hosted by Missy Hypnotize, supported by Barrio resident, DJ Dan Grey. The perfect 90s throwback with plenty of prizes and surprises including impromptu performances, bingo calls and some wild '90s lip-sync battles. Expect a 2-Course Brunch Menu of your choice including Biggie's juicy beef burger and enjoy bottomless prosecco, gin'n'juice or bottle beer.
When: Every Saturday 
How much: £40 for 1 hour and £50 for 2 hours.
---
Barrio Soho – La Isla Bonita
What: Beach bar-style basement club. 80's Musical Bingo and bottomless brunch.
Why: Barrio Soho is one of central London's leading party bars. Enjoy juicy burgers, Barrio cocktails, and get ready for an afternoon of entertainment with lip-sync sing-a-long and musical bingo.
When: Every Saturday (Launching on Saturday 26th June!)
How much: £40 for 1 hour bottomless and £50 for 2 hours.